Loa - Range
A perfect combination of acoustics and design.
Features
Type:
Absorber

Absortion Range:
350 Hz to 5000 Hz

Acoustic Class:
B | (aw) = 0,80
Purpose
- First reflection Control
- RT reduction
- Flutter echo control
- Reducing excessive reverberation
- Improving speech intelligibility
Loa.
Loa range is a collection of high performance acoustic absorbers – This new take on the Loa panels now includes Loa, Loa Dimi, Loa Square and Loa Rectangle.
Made from a combination of different sizes and shapes, the Loa range is extremely versatile – allowing you to perfectly adapt the acoustic treatment to the characteristics of your room.
Loa acts in the mid-high frequency range, and is the perfect solution to reduce excessive room reverb, treat first reflections, or to solve common issues such as flutter echoes or comb filtering.
Available in a selection of high quality acoustic fabrics, Loa range can easily be installed flush to the wall, or with any of the range of FixArt fixing systems.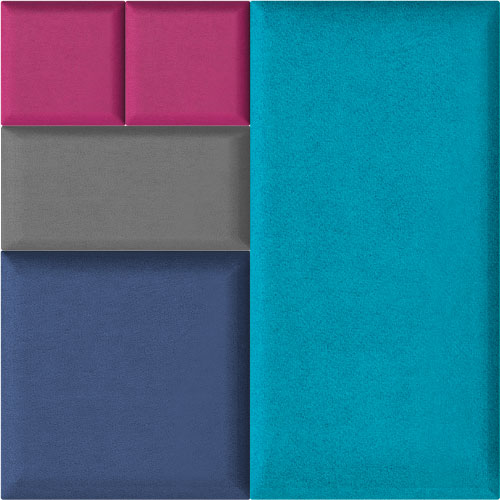 Performance
A perfect combination of acoustics and design.
Recommended for
- Hi-Fi Listening Room
- Media Room
- Home Cinema
- Living Room
Available fire rate:
FG | Furniture Grade

Materials:
- Acoustic fabric
- Marine grade plywood structural frame
- Calibrated cell acoustic foam

Range | Dimensions:
Loa - Absorber | 297x297x40mm
- Equipped with four M6 Screw Thread receiver

Loa Dimi - Absorber | 595x297x40mm
- Equipped with four M6 Screw Thread receiver

Loa SQR - Absorber | 595x595x40mm
- Equipped with four M6 Screw Thread receiver

Loa RCT - Absorber | 595x1190x40mm
- Equipped with four M6 Screw Thread receiver

Integrated Fixing system:
Designed to keep your walls intact, providing a sturdy alternative to glueing panels to your walls. Perfect for temporary installations, or for rented studios and rooms.
(fixing already incorporated on the panel)
Fixing Systems
Wall & Ceiling

+ FixArt - Tube

+ FixArt Clip

+ GlueArt 2.0

+ Instant Fix Kit
Ceiling

+ FixArt Cloud
Add-ons

+ FixArt Tube Lock

+ FixArt Connect

+ M6 Screw Thread receiver - Add-on
Mobile

+ Kit Mobile Wall
Loa - Absorber | Range
Range