Vector Doble W - Bass Trap - Wall
Absorption coefficient
Features
Absorption range: 80 Hz to 120 Hz
Tuned Frequency: 80 Hz

-Double membrane surrounding a central acoustic core
-Larger membrane lowering the resonant frequency
-Designed to be completely in line with other absorbers

Vector Wall Bass Trap: 595x1190x58mm
Fixing System: Fixart Tube

Finish: Lacquered or Wood Veneer
The Vector Wall Bass Trap is ideal for rooms with low frequency issues, taking full advantage of it small depth to place on walls alongside existing room treatment. With a peak absorption from 80 Hz to 120 Hz the Vector Wall Bass Trap is the bridge between the low and mid frequency absorptions, acting in the "low-high" frequency range.
The Vector Wall Bass Trap is equipped with a double membrane surrounding a central acoustic core. This design allows for a larger membrane - lowering the resonant frequency, whilst increasing the volume of the inner air cavities – packing the most performance into the least volume possible.
Its distinctive design offers a impressive, unique look to your studio, a true trademark of Jan Morel design.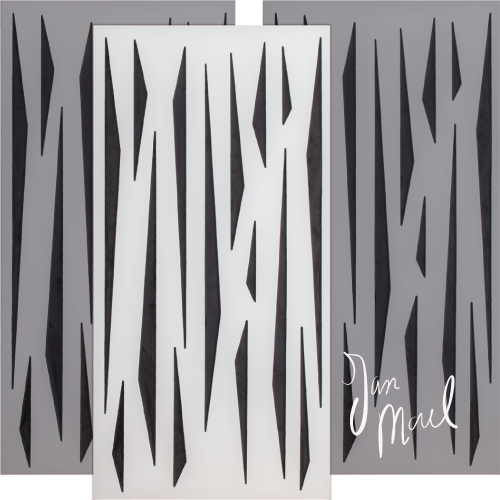 Performance
1/3 Oct. from 32Hz to 160Hz | 1 Oct. from 250Hz to 8 KHz

Designed to be completely in line with other absorbers.
With mechanical fixing, the updated wall bass trap is designed to be completely in line with other Artnovion panels, whilst also mountable in vertical or horizontal dihedral corners, with a dedicated fixing system package.
The Wall Bass Trap is a wall mounted bass trap, designed to blend in with your acoustic treatment, providing seamless low frequencies between 80Hz and 120Hz (tuned to 80Hz).
Maximum performance, minimum thickness.
Pressure and velocity bass trap:
Double Membrane & High density foam core.
Calculations are based on understanding of the following:
- London, A., The Determination of Reverberant Sound Absorption Coefficients from Acoustic Impedance Measurements. J. Acoust. Soc. Am., 1950. 22(2): p. 263-269
- Cox, T.J. and P. D'Antonio, Acoustic absorbers and diffusers : theory, design, and application. 2004, London: Spon Press.
- Kuttruff, H., Room acoustics. 4th ed. 2000, London, [England] ; New York, NY: Spon Press.
- Vér, I.L. and L.L. Beranek, Noise and vibration control engineering : principles and applications. 2nd ed. 2006, N.J.: Wiley
Finishing Material:
Wood FG | Furniture GRade
Vector Doble W - Bass Trap - Wall
FG: 595x1190x58mm
Fixing Systems:
Fixart Tube
FixArt Tube is a innovative system for acoustic panels. Easy to install, easy to align, Simply follow our template and attach the clip fixture to your surface, and then to the corners of your panel, clip them both into the tube, and you're done! With easy adjustment once mounted, and an easy clip-in, clip-out.

Vector Doble W - Bass Trap - Wall
A millenary inspiration for unique acoustical design and performance
Overview
Acoustic performance:
Absorption range: 80Hz to 120 Hz
Tuned frequancy: 80Hz
Dimensions:
FG | 595x1190x58 mm
Finishing Material:
MDF Lacquer - FG | Furniture Grade


Click on a certain finish for more detailed information
Installation:
FixArt Tube | Kit Mobile Wall

Disclaimer: When using FixArt Tube on the ceiling, it is obligatory to use the FixArt Lock security device. This system guarantees a safe and precise installation. Artnovion is not liable for any damage caused by improper use of FixArt Tube.
Dimensions:
595x1190x58mm
Available Finishes:
Fabric
Front